The question that is on many couples minds at the moment is 'should we postpone our Wedding?' For some, it won't be the first time either! They have simply had enough of waiting and all the uncertainty of whether or not they'll be able to get married on their chosen date. They've made the decision to go ahead with their plans. That creates the difficult task of 'uninviting' guests! But there's a way your guests can still see be a part of your special day…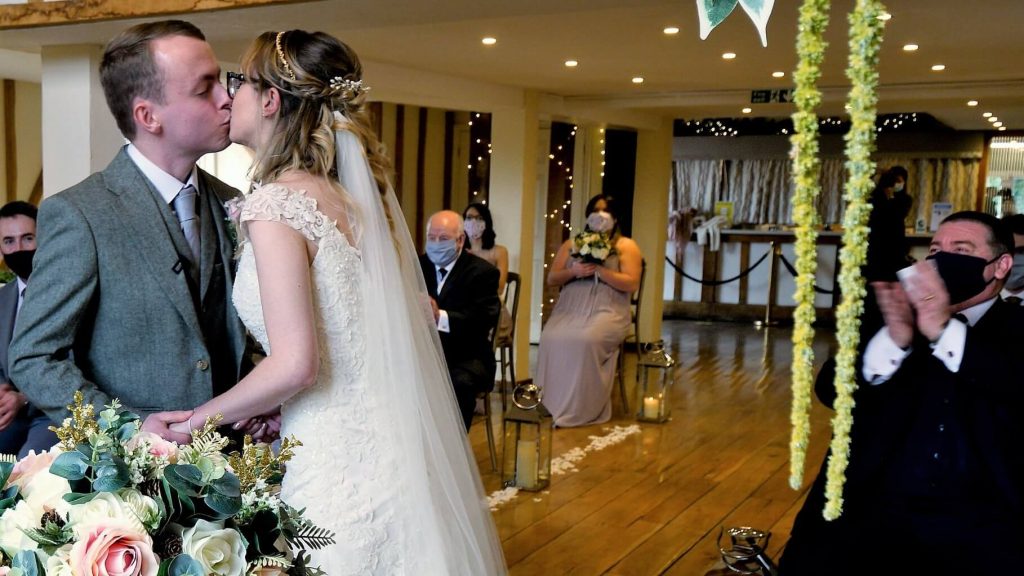 Live Streaming your ceremony is the perfect way to let all your family and friends have a virtual front row seat at your wedding. Whether you have people shielding, friends and family abroad or are just tired of stressing about how to reduce your numbers, this is the answer. So don't 'uninvite' them, ask them to share your special day virtually! Yes you could get one of your guests to 'Facebook Live' it for you but read on to see why that's a bad idea…
There are many reasons why booking a professional to Live Stream your Wedding is a must… I mean, unless you're a dressmaker you wouldn't entertain the idea of making your own wedding dress…and you're certainly not going to roll up your sleeves and pop in the kitchen to knock up dinner for your guests! Nor would you want your guests to – those special people who've made the final cut to actually be with you on your wedding day want to enjoy it, not spend time setting up their phone to film it for you! So leave it to the professionals, just as you would for any other part of your day. If we haven't convinced you yet, here's some Pro's and Con's to consider…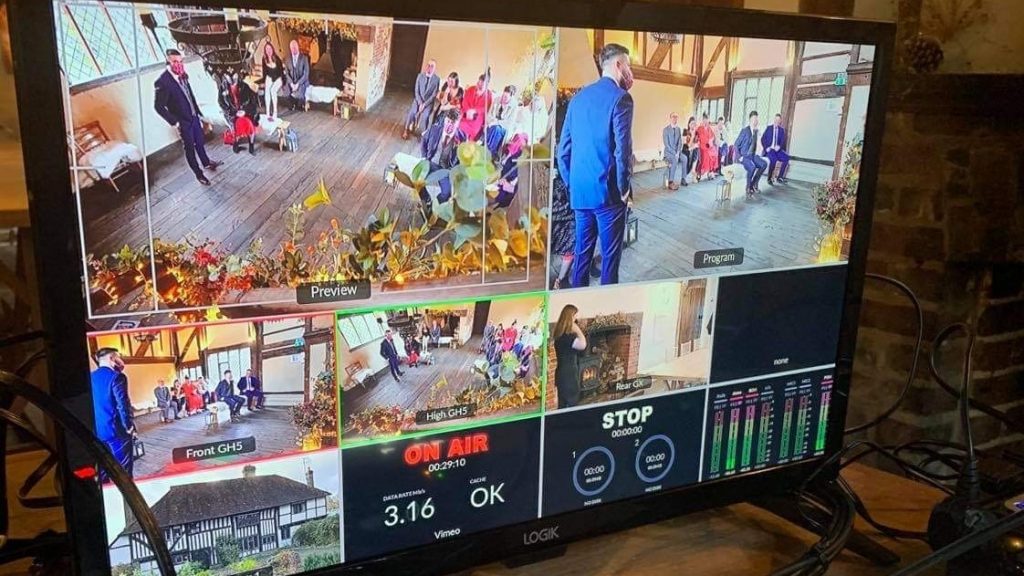 DIY or hiring a Professional
You can just about get away with using a phone or tablet to stream your ceremony. This is usually done by a guest simply holding the device from their seat. This will be shaky unless a tripod is used, and the sound will be poor. But it works – just!
A professional company will use multiple cameras, one of which will be at the front to capture the couple's faces from a far better viewpoint than a seated guest! Only a pro will be permitted to film from the front. They will use tripods and hidden radio microphones to capture clean audio. They will cut or mix between the different cameras during the ceremony to give a more interesting and varied broadcast.  Above all, the pro will take away all the stress for you and simply give you a link to share with all your virtual guests and let you relax and enjoy your wedding!
Streaming platforms available:
Facebook Live
Pros – great quality, no membership required
Cons – possibility of music being muted or whole stream removed, 1000 followers needed for mobile device streaming, YouTube is one of the most blocked websites in the world, especially in businesses and schools
Zoom
Pros – 2 way interaction
Cons – designed primarily for business meetings, 40 minute limit on free version, quality not always great, needs host to accept people in
Vimeo PRO
Pros – excellent quality, private link, password protection, dedicated platform, unlimited viewers, viewable worldwide
Cons – expensive so only viable via a professional provider
A professional company such as Watch our Wedding will check the WiFi signal and bring their own modem, offer multiple camera angles, use a safe and secure streaming service and will have invested in professional equipment to provide a superior quality stream with crystal clear visuals and audio. But most of all they will take away the stress from you and your guests. Don't just take our word for it, read some of our reviews below from our happy couples:
'With only 15 guests and the day before going into tier 4 we decided to go ahead with the wedding ceremony even though we couldn't have the people we wanted to be there we thought it was a great idea to have the live stream ceremony package. All of my husband's family were able to watch from France and everyone said they felt like they had a front seat view. The wedding video is so lovely and captured beautifully. I cry happy tears every time I watch it.'
Rachel & Will, E Sussex
'We finally had our wedding after postponing 4 times and decided to live stream the ceremony. We had 15 of us and Sam and Chris made it possible to include all of our friends and family who couldn't join us. The live stream has had so many positive comments and we loved that everyone was watching!'
Amy & James, W Sussex
'I'm so glad that my Covid-wedding prompted us to use Watch Our Wedding because I can't put into words how much it meant to have the people I love see me get married when there was no other way and now I have footage of that day forever.
Amazing company, genuinely kind people and would recommend them to all engaged couples – not just for lockdown weddings! – because they are 100% worth it.'
Ruth & Ollie, Hampshire
'We received a lot of positive comments from our online guests who said that the live stream was high quality – something which we can affirm ourselves, as Sam and Chris used a platform which allows us to watch the recording of our live stream back whenever we want. It was professional and seamless. We were so glad we decided to ask for Sam and Chris' professional help, rather than stressing out on the day by trying to organise a live stream set-up ourselves!'
Elena & James, Leicestershire
'They were very professional, we didn't even realise they had captured some elements of the day as they were so out of the way, yet the live stream and video they provided were incredibly quality. Would thoroughly recommend!'
Rosie, W Sussex